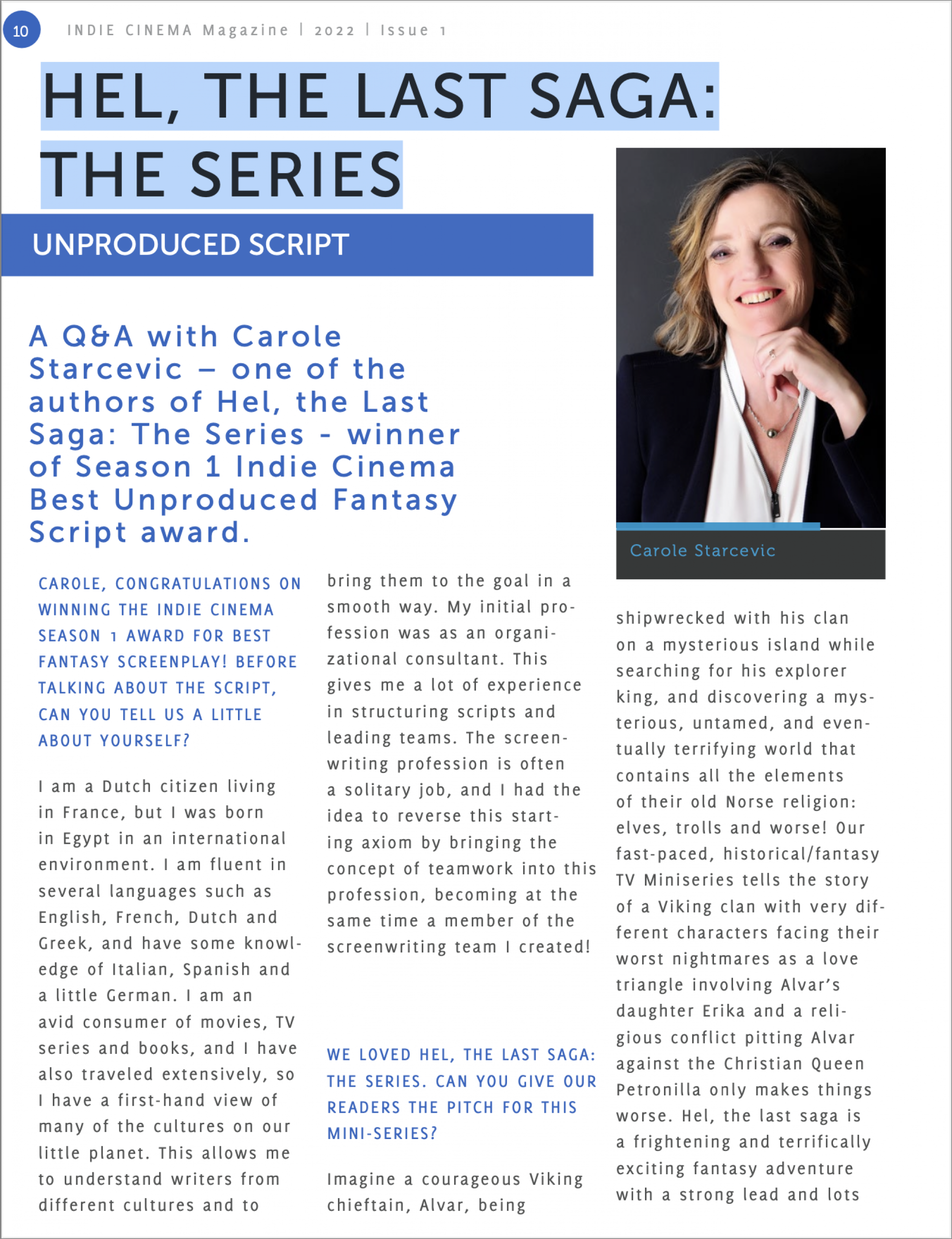 A Q&A with Carole Starcevic – Hel, the Last Saga: The Series - Best Unproduced Fantasy Script

Link to the original article


Carole, congratulations on winning the Indie Cinema Season 1 Award for Best Fantasy Screenplay! Before talking about the script, can you tell us a little about yourself?

I am a Dutch citizen living in France, but I was born in Egypt in an international environment. I am fluent in several languages such as English, French, Dutch and Greek, and have some knowledge of Italian, Spanish and a little German. I am an avid consumer of movies, TV series and books, and I have also traveled extensively, so I have a first-hand view of many of the cultures on our little planet. This allows me to understand writers from different cultures and to bring them to the goal in a smooth way. My initial profession was as an organizational consultant. This gives me a lot of experience in structuring scripts and leading teams. The screenwriting profession is often a solitary job, and I had the idea to reverse this starting axiom by bringing the concept of teamwork into this profession, becoming at the same time a member of the screenwriting team I created!
We loved Hel, the last saga: The Series. Can you give our readers the pitch for this mini-series?

Imagine a courageous Viking chieftain, Alvar, being shipwrecked with his clan on a mysterious island while searching for his explorer king, and discovering a mysterious, untamed, and eventually terrifying world that contains all the elements of their old Norse religion: elves, trolls and worse! Our fast-paced, historical/fantasy TV Miniseries tells the story of a Viking clan with very different characters facing their worst nightmares as a love triangle involving Alvar's daughter Erika and a religious conflict pitting Alvar against the Christian Queen Petronilla only makes things worse. Hel, the last saga is a frightening and terrifically exciting fantasy adventure with a strong lead and lots of spectacle. The series is both engaging and immersive.
Why is there only one 'l' when you write the word Hel?

This is not a typo! Hel is the goddess of the dead in Norse mythology. The English "Hell" comes from this name, as does the Dutch "Hel" and the German "Hölle".
Why will this series appeal to the audience?

Hel, the last saga engages the viewer because the characters are heroic but human, endearing, revealing their own weaknesses and obsessions. In each episode a new character is the leader, and his or her point of view advances the plot.
What is the secret of this mysterious place where Alvar and his people have been shipwrecked?

The multiple viewpoints of the different episodes provide viewers with different perspectives and encourage them to question exactly what the truth might be. The aim is not to question the possibility of only one truth – the so-called "Rashomon" effect, after director Akira Kurosawa's 1950 film Rashomon – but rather to provide insight into the workings of the mind of the antagonist, who is a strange, menacing
god
! The viewers explore, as he explores, and along the way the veil lifts. Repeated overlays depict the characters and their stories in ever-increasing depth until, eventually, the truth is revealed.
What would be its atmosphere?

One of a kind! We have made a very detailed bible in which we have imagined a mixture of medieval and modern. For example, the soundtrack could be hard rock or grunge, in the style of Metallica or AC/DC, perfectly matching the energy of the series but also the Nordic spirit, while bringing a modernity contrasting with the characters of the year 999. Nick, our proofreader, is also a professional guitarist and has written a soundtrack that is just incredible. Just hearing it gives me chills every time. He is very talented. Finally, the immersive violence is countered by engaging moments of humor that provide insightful counterpoints.
Where does our inspiration for this unique and special world come from?

The universe of Hel, the last saga is inspired by the eponymous successful horror board game from Mythic Games, a partner of my screenwriter team Rapsodies. Rapsodies developed this IP by bringing in our ideas and structuring it into a series. The Norse gods are gradually being supplanted by the Christian god, worshipped by Petronilla, the Anglo-Saxon queen. However, in this ancient land there exists a force that predates both religions. Many scenes explore the nature of sanity and madness. There is a nod to H. P. Lovecraft's work and mythology and the pantheon of the Great Old Ones – those evil gods who gradually break the will and sanity of the poor fools who oppose or worship them.
You signed your script Hel, the last Saga under the name of Rapsodies, which is a team of international screenwriters. Can you explain to us your concept of an international scriptwriting team?

Our team's name is Rapsodies. The company is based in France, but our multicultural team draws on the talents of American, English, French and Dutch writers. Our scripts are homogeneous because our team is stable and always managed a skilled lead writer. Our professional screenwriters are not beginners: they have individually written 40 feature film scripts, 10 TV series scripts, 10 animations and 20 short films that are in production or that have already been produced successfully. Our skilled team members have also written plays, musicals, radio shows and audio stories: for instance Terry is an English award-winning, commissioned screenwriter, playwright, drama and comedy writer - with over a dozen BBC commissions - with experience of writing for television, stage, film, animation, new media and radio. Toby is an award-winning American produced screenwriter with 20 years of experience in the film and television industry, working on projects with producers, directors and studios/networks including Viacom, Netflix, Amazon Studios, Sony, Universal, Entertainment One and Origo Film Group. Richard is an American produced screenwriter with 20 years of experience in the film, television and theater industry. But we also have promising newcomers like our French members Aurèle and Margaret. Several team members are high-level scientists (engineers, PhDs) who contribute their technical know-how to ensure the scientific accuracy and realism of various sophisticated concepts developed by Rapsodies. Some team members come from the gaming world and have intimate knowledge of the genre. Rapsodies is associated with Mythic Games, a company that has had a series of successes in the USA and Europe with games such as Salomon Kane, Joan of Arc, Hel, the last saga and Darkest Dungeon. Several Rapsodies feature film and TV scripts are based on adaptations of these IP. In the past year Rapsodies has won over thirty screenplay competitions in the US, UK, Europe and Japan.
The Rapsodies team has worked on scripts in several genres. Which one do you prefer?

I truly believe that our diversity of culture, gender and age opens us up to almost any genre. Half of our scripts are in the Sci-Fi or Fantasy genre, including Hel, the last saga. That's probably the genre we're most comfortable with, especially if it's a hybrid with another genre, like Sci-Fi/Thriller with our title Mind out of Time or Comedy/Fantasy projects with Weapons of Magical Destruction. However, Rails Run Parallel, which is a Drama/War script without fantasy, has won seven awards in major competitions, and our RomCom Born to Pull has been optioned by a producer and we are in the process of finalizing the final version with the director.
Will you be in Cannes this year?

Yes, we will be physically at the Cannes Film Market, with 4 or 5 members of the team from 18 to 22 May, booth 19.07. I'm looking forward to reconnecting with people!
Where can our readers find out more about your projects?

We are active on Twitter, Facebook and Instagram, up to date on IMDbPro and we have a website with descriptions of our projects, including an active Blog. Our web site: https://www.rapsodies.fr